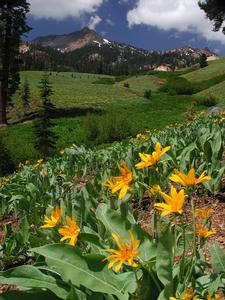 Wilderness and Backcountry Stewardship Plan Alternatives
Lassen Volcanic Wilderness was designated by Congress as part of the National Wilderness Preservation System on October 19, 1972. To date, 79,062 acres are designated wilderness with approximately 13,000 acres of backcountry. To provide guidance on the management of wilderness and backcountry areas, Lassen Volcanic National Park is developing a Wilderness Stewardship Plan (WSP). Once complete, this plan will include a framework for the management and use of wilderness and backcountry resources including, but not limited to, cultural resources, research, trail use and maintenance, climbing, camping, stock use, and administrative activities.
The purpose of the Wilderness Stewardship Plan is to guide the preservation of wilderness character in Lassen Volcanic National Park. National Park Service (NPS) policy directs wilderness stewardship plans to include "desired future conditions; as well as establish indicators, standards, conditions, and thresholds beyond which management actions will be taken to reduce human impacts to wilderness resources." The goals of the plan are to:
• Preserve, restore, and protect the natural and untrammeled qualities of Lassen Volcanic Wilderness;
• Provide visitors with diverse opportunities to experience wilderness without compromising wilderness values;
• Preserve and p provide guidance on the management of wilderness and backcountry areas within Lassen Volcanic National Park protect significant examples of Other Features of Value, such as historic structures;
• Demonstrate wilderness leadership by establishing comprehensive approaches to protect the park's wilderness character in keeping with the Wilderness Act;
• Enhance understanding of wilderness values and the virtues of stewardship;
• Coordinate with agencies to promote cohesive wilderness management; and
• Preserve and maintain wilderness character and values using appropriate management actions.
In preparation for an Environmental Assessment (EA) and in compliance with the National Environmental Policy Act (NEPA), we have prepared a range of alternatives that take into consideration the proposed goals identified for the plan and frame the potential issues that impact wilderness resources and values. This plan will also be developed and conducted in accordance with Section 106 of the National Historic Preservation Act (NHPA) and other applicable laws, regulations, and policies.
Because public participation is very important to the success of the project, the NPS encourages your review and comment on the preliminary alternatives. Comments will be accepted through May 26th, 2018. The press release, brief alternative description, and alternatives matrix are available electronically for review and comment online by visiting
http://parkplanning.nps.gov/lavo
, the website for the NPS's Planning Environment and Public Comment (PEPC) system.
Comment Period:
Closed 04/26/2018 - 05/26/2018

Document Content:

3.23.18 Alternatives WSP.docx
(29.0 KB, .docx file)
Disclaimer:
Links within the above document(s) were valid as of the date published.
Note:
Some of the files may be in PDF format and can be viewed using the Adobe Acrobat Reader software.
You may download a free copy of Acrobat Reader from Adobe Systems.