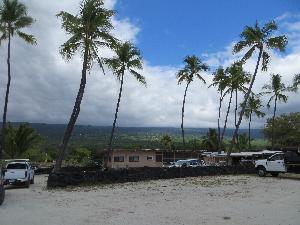 Replace Maintenance Facility and Restore Landscape
The purpose of this project is to remove the intrusive temporary facilities from their present location, restore the historic scene of the site and construct replacement facilities in more suitable locations elsewhere in the park. Alternative sites for the replacement facilities are being considered based on their potential effect on park resources, benefit to park operations and their effect on visitor and community experiences. The location and design of the new facilities will be aligned with NPS's commitment to stewardship of this special landscape and to protect the wahi pana and interconnected cultural and natural resources of the park. These developments would all replace existing substandard and inadequate facilities.
Alternative sites for the new replacement facilities are being considered based on their effect on park resources, improvements to park operations and their effect on the visitor experience. New facilities would be located and designed to harmonize with the park's cultural landscape and in accord with sustainable planning and design guidelines.
The proposed action consists of constructing a new maintenance facilities in a mauka portion of the park. These developments would all replace existing substandard and inadequate facilities. Preliminary conceptual cost estimates have been developed for the planning, design and construction of the proposed new facilities and for the stabilization and preservation of the historic scene.
The National Park Service (NPS) is seeking public comment on an Environmental Assessment (EA) under the National Environmental Policy Act (NEPA) to remove and replace the existing maintenance facilities at Puʻuhonua o Hōnaunau National Historical Park.The NPS will be hosting a virtual public meeting as indicated below and accepting public comments through PEPC.
Two alternatives were identified as best meeting project objectives and are analyzed in the EA. Each of the alternatives would remove the existing temporary structures, but each differ in the proposed location for new facility construction.
Please help guide the future of this special place by attending the virtual public meeting this May.
Save the Date! Virtual Meeting: Wednesday, June 21st at 6:00 - 7:30 pm HST.
Microsoft Teams meeting
Click here to join the meeting or copy and paste the link into your browser.
https://teams.microsoft.com/l/meetup-join/19%3ameeting_YzhhYzAyYzgtYjcwZC00NzMzLWJlYmYtMWNkZmQyNjYxM2Y3%40thread.v2/0?context=%7b%22Tid%22%3a%220693b5ba-4b18-4d7b-9341-f32f400a5494%22%2c%22Oid%22%3a%22e4d7225c-db87-4a94-9d2e-92aa3be16aa0%22%7d
Meeting ID: 218 612 600 842
Passcode: 3S6YQr
Download Teams / Join on the web
Or call in (audio only)
+1 202-640-1187,,300142004# United States, Washington DCPhone Conference ID:
300 142 004#
Find a local number / Reset PIN
Contact Information
Ming-Yi Wong
303-969-2374
Built as "temporary" facilities more than fifty years ago during the 1960's, structures housing the administrative headquarters and maintenance facilities for Pu`uhonua o Honaunau National Historical Park are located in an area of the park where significant Hawaiian archeological features are now known to exist. In some cases, these non-historic structures lie directly on top of significant cultural resources. In their present location, they are a visual intrusion on the cultural landscape of a historically significant portion of the park. Moreover, the structures are in a coastal area subject to high waves generated by severe winter storms or hurricanes and inundation from tsunami (tidal waves).