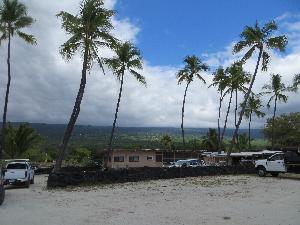 Replace Maintenance Facility and Restore Landscape


The purpose of this development concept plan is to remove these intrusive "temporary" facilities from their present location, construct new replacement facilities in suitable locations elsewhere in the park, and provide direction for the preservation of the historic scene in the former location. Alternative sites have been considered for the construction of replacement facilities, including locations outside of the park.

Alternative sites for the new replacement facilities are being considered based on their effect on park resources, improvements to park operations and their effect on the visitor experience. New facilities would be located and designed to harmonize with the park's cultural landscape and in accord with sustainable planning and design guidelines.

The proposed action consists of constructing a new maintenance facilities in a mauka portion of the park. These developments would all replace existing substandard and inadequate facilities. Preliminary conceptual cost estimates have been developed for the planning, design and construction of the proposed new facilities and for the stabilization and preservation of the historic scene.


Contact Information
Ming-Yi Wong
303-969-2374



Built as "temporary" facilities more than fifty years ago during the 1960's, structures housing the administrative headquarters and maintenance facilities for Pu`uhonua o Honaunau National Historical Park are located in an area of the park where significant Hawaiian archeological features are now known to exist. In some cases, these non-historic structures lie directly on top of significant cultural resources. In their present location, they are a visual intrusion on the cultural landscape of a historically significant portion of the park. Moreover, the structures are in a coastal area subject to high waves generated by severe winter storms or hurricanes and inundation from tsunami (tidal waves).