Project Links
A comment period for this project closes Dec 14, 2023:
Days, Hours, Min.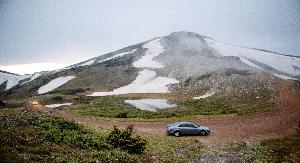 Day Use Visitor Access Plan and Environmental Assessment
The park experienced a 44 percent increase in visitation from 2012 to 2019. In 2021, the park received 4.4 million visits. Even with a timed entry system in place the park received some of the highest visitation in its history. The park's top five visitation years are as follows: 2019, 4.67 million; 2018, 4.59 million; 2016, 4.51 million; 2017, 4.437 million; 2021, 4.434 million. Rapid growth in day use visitation and changing use patterns in the park have degraded natural and cultural resources, diminished quality of the visitor experience, increased visitor and staff safety concerns, and created a heavy strain on the park's facilities and ability to perform daily operations. The goal of the plan is to identify strategies that will help protect park resources, offer varied opportunities for high quality visitor experiences, and enhance visitor and staff safety.
Between 2016 and 2023, the park piloted several day-use visitor management strategies to address crowding, congestion, and impacts on park resources. The park also asked the public for their participation in envisioning the future of day use visitor access at Rocky Mountain National Park during the summer of 2021 and the winter of 2022-2023. Based on public feedback and information gathered during the pilots, the preferred alternative described in the EA would establish two timed entry reservation systems, one for the Bear Lake Road Corridor and one for the rest of the park, similar to the 2021, 2022, and 2023 pilots.
Park staff are eager to continue engaging with stakeholders and park visitors about the purpose and need for action; the environmental issues and impacts being addressed, and the proposed alternatives. We hope to hear from members of the public who have visited the park, local businesses, and the surrounding community. Park staff invite members of the public to submit their comments via the park's Planning, Environment and Public Comment (PEPC) website beginning October 30, 2023, through December 14, 2023.
How to Comment:
Comments can be submitted online by clicking on 'Open for Comment' on the above left side of this page. Comments may also be sent to the following mailing address:
Superintendent
Rocky Mountain National Park
1000 US Highway 36
Estes Park, CO 80517
Before including your address, phone number, e-mail address, or other personal identifying information in your comment, you should be aware that your entire comment - including your personal identifying information - may be made publicly available at any time. Although you can ask in your comment to withhold your personal identifying information from public review, we cannot guarantee we will be able to do so.
Join Us to Learn More!
The park will host public open houses on Tuesday, November 14, from 5 to 7 p.m. at the Grand Lake Center in Grand Lake, Colorado and Monday, November 27, from 5 to 7 p.m. at the Estes Valley Community Center in Estes Park, Colorado. These open houses will provide an opportunity to drop in, meet with National Park Service (NPS) staff, and learn more about the EA and the proposed alternatives.
The park hosted a virtual public meeting on Wednesday, November 8. A recording of the meeting is available at:
https://www.youtube.com/watch?v=TsYpho41Qwc
If you would like more information about the park's long-range planning efforts please visit
https://go.nps.gov/romo/duvas
If you would like more information about Rocky Mountain National Park, please visit
https://nps.gov/romo
or call the park's Information Office at (970) 586-1206.
Contact Information
Park Information, 970-586-1206
Rocky Mountain National Park is seeking public comment on an Environmental Assessment (EA) for the park's long-range day use visitor access plan. This plan is needed to provide day use visitor access in a way that protects resources while creating opportunities for high-quality visitor experiences.