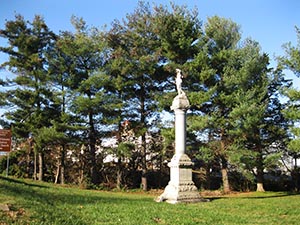 Rehabilitate Vegetative Screening Around 15th New Jersey Monument at Salem Church


The monument to the 15th New Jersey Volunteer Regiment at Salem Church was erected in 1908 and dedicated the following year. It is located on a 0.80-acre piece of ground owned by the National Park Service that is 300 yards north of the historic church, at the northeast corner of an intersection formed by Plank Road (Route 3) and Heatherstone Drive (Route 694). The monument originally stood several feet farther to the south, but it was moved in 1961 to its present location due to the widening of Plank Road. Following the widening, the NPS and Virginia Department of Transportation (VDOT) developed a small vehicular pull-off in front of the monument on the southern shoulder to the westbound lanes of Plank Road. This pull-off has remained in the VDOT right-of-way, but has been used by visitors and NPS maintenance staff to visit the monument. VDOT has now decided to widen Route 3 and remove the pull-off. Visitors will still be able to access the monument, but will need to use adjacent commercial parking lots. NPS maintenance crews, however, will still need access to the site for mowing and other landscape upkeep. The vegetative plantings that currently frame the monument on the west and east side of the property were planted decades ago as a backdrop for the monument and to help screen the adjacent commercial development. The vegetation consists of double-row plantings of eastern white pines and sweetgums. The trees have aged and some show signs of decline, and the loss of lower limbs no longer helps to screen the adjacent properties.

The park is proposing to rehabilitate the vegetative screening by removing some of the trees and establishing new plantings. On the advice of the park's cultural landscape historian, the park plans to remove the row of pines by cutting the trees close to the ground and then grinding the stumps. New plantings would consist of green hawthorns in front of or mixed with evergreen material in a semi-circular configuration. To the rear (north) of the small lot, a gap of six feet will be left in the vegetation. This small gap will allow park maintenance vehicles and lawn mowers to access the property off of Heatherstone Drive.


Contact Information
Eric Mink
540-693-3200 x6020



Fredericksburg and Spotsylvania NMP proposes to rehabilitate the vegetative screening around the 15th New Jersey Monument at Salem Church.