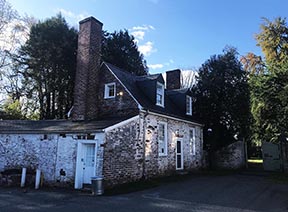 Install Mini-Split HVAC System in Chatham Farm Office


The Chatham Farm Office was built c.1920 and is a contributing structure a contributing structure to the park's National Register of Historic Places eligibility or listing. The Farm Office is also on the park's List of Classified Structures. (IDLCS #07873). The Farm Office currently contains two office spaces, one of which is unoccupied and the other has been used for the past 10-15 years as the Server Room for the park's Information Technology (IT) needs. The IT equipment generates a fair amount of heat and the existing HVAC system in the Server Room has proven incapable of keeping the room at a preferred temperature. The park added a stand-alone floor air conditioner, which vented through the window, about 5 years ago, but the increased demand for more IT equipment has now made that system obsolete. Therefore, the park is proposing to make more significant upgrades by installing a mini-split HVAC system in the Server Room.

The equipment will consist of one wall mount air-handler, one heat pump and refrigerant lineset with control wire. The indoor air handler will be hung using the wall mounting plate secured by four 1/4" anchors and screws. This will occur on an interior wall that separates the Farm Office from a room that served as a water treatment area for the property. Two 3/4" holes will be drilled in the floor for the lineset, power and condensate lines. The heat pump will be positioned in an adjacent room that currently houses equipment related to an unused water treatment system for the property. The lineset, power and condensate lines will penetrate the floor through the required 3/4" holes, accessing the room below the Server Room. The condensate line will empty into an existing sump, while the lineset and power lines will run beneath the Server Room floor via an existing chase in the wall, and will access to the water treatment room and connect to the heat pump. The mini-split system will be able to cool year-round independent of the larger HVAC chiller and provide heat if the outside temperature drops significantly. The existing portable unit will be removed along with the exhaust duct from the window.


Contact Information
Eric Mink
540-693-3200 x6020



Fredericksburg and Spotsylvania NMP proposes to make HVAC improvements to a single room in the Chatham Farm Office.