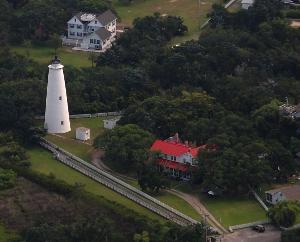 Ocracoke Light Station Rehabilitation


Buildings associated with the Ocracoke Light Station complex include the Double Keepers' Quarters, carpenter's shop, store house, cisterns, privy, oil house, generator house and lighthouse. The Ocracoke Lighthouse was built in 1823 and was placed on the National Register of Historic Places in 1977. It is the oldest functioning lighthouse in North Carolina and the second oldest lighthouse still in service in the United States. A wooden picket fence encloses the station, and several historic live oak and eastern red cedar, and two bald cypress trees survive in the landscape near the dwelling.

In the wake of recent storm damage and flooding events and in consideration of future impacts exacerbated by climate change and sea level rise, the National Park Service is proposing to sustainably rehabilitate the Ocracoke Light Station and mitigate reasonably foreseeable flooding impacts to this site.

The project is needed because historic structures have been damaged from recent storms and, if the buildings are left as they are, it is expected they will be damaged further by future storms. Furthermore, the site has evolved with the addition, alteration, and demolition of structures over the years to meet the needs of the Seashore, and rehabilitation of these structures is needed to assist with storm recovery and preservation.

The Seashore needs guidance on a sustainable path forward that considers the longevity
and sustainability of any changes considered.


Contact Information
Sabrina Henry
252-423-1541



Cape Hatteras National Seashore (the Seashore) is considering rehabilitation options for the Ocracoke Light Station on Ocracoke Island, NC.