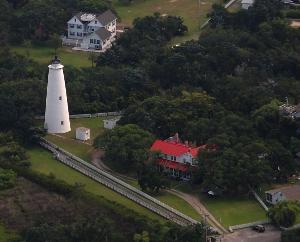 Repair Ocracoke Lighthouse and Double Keepers Quarters (Florence)


Buildings associated with the Ocracoke Light Station complex include the Double Keepers' Quarters, carpenter's shop, store house, cisterns, privy, oil house, generator house and lighthouse. The Ocracoke Lighthouse was built in 1823 and was placed on the National Register of Historic Places in 1977. It is the oldest functioning lighthouse in North Carolina and the second oldest lighthouse still in service in the United States. A wooden picket fence encloses the station, and several historic live oak and eastern red cedar, and two bald cypress trees survive in the landscape near the dwelling.

The Ocracoke Light Station and supporting structures have been damaged by Hurricanes Matthew, Florence, and Dorian (2017-2019). The Seashore anticipates that at some time in the future, the area will be overtaken by sea level rise and actions may need to be taken to preserve the historic structures at the site.

The purpose of this effort is to sustainably preserve the historic resources at the Ocracoke Light Station in the wake of recent storm damage and in consideration of future impacts from climate change and sea level rise while providing visitor access to the site.


Contact Information
Sabrina Henry
252-423-1541



Cape Hatteras National Seashore (the Seashore) is considering site preservation options for the Ocracoke Light Station on Ocracoke Island, NC.