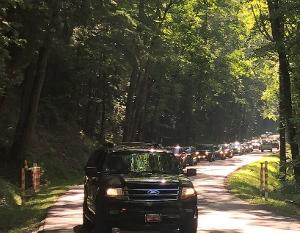 Cades Cove Vehicle-Free Days


Cades Cove, a 2,000-acre valley surrounded by scenic mountains, provides one of the most popular destinations in the park with over 2 million visitors a year. Visitors enjoy the area along an 11-mile, one-way loop road that passes through a historic landscape dotted by cabins, churches, and a grist mill. Visitors are drawn to Cades Cove to view wildlife, access hiking and equestrian trails, take photographs, attend ranger programs, and ride bicycles.


Contact Information
Dana Soehn 865-436-1207



Great Smoky Mountains National Park is evaluating ways to improve visitor safety and experience during vehicle-free days on the Cades Cove Loop Road. For over 40 years, park managers have implemented several vehicle-free opportunities for bicyclists and pedestrians in Cades Cove. Currently, the road is closed to vehicles on Wednesday and Saturday mornings until 10:00 a.m. from May through September. Due to growing use and congestion, the park is proposing to implement a pilot study for the 2020 season to evaluate changing this vehicle-free period to a weekly, full day closure on Wednesdays from May through September.