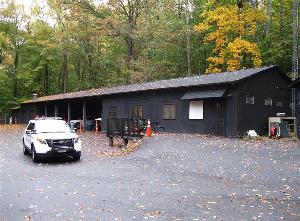 Upgrade Doors and Hardware at War Department Maintenance Building


The War Department Maintenance Building was constructed in the late 1930s. It was used as a maintenance facility for decades before being converted into offices for the park law enforcement rangers in the 1980s. The War Department Maintenance Building is considered a contributing structure to the park's National Register nomination under the park's subtheme: Park Development.

The main office of the Maintenance Building will have the non-historic 32 in. x 80 in. hollow core interior door removed. The new door will be a flush panel steel door, metal jam with hinges and lock set. The lands office has been identified as a physical security issue. The current door has been cut into two pieces. A security assessment recommended removing the non-historic door and replacing it with a in-kind one piece solid wood door. The new door will be stained to match the exterior wood surfaces.

It is the park's opinion that no historic resources will be affected, as the rehab of the Maintenance Building in the 1980s for office use consists of non-historic fabric. Thus the replacement doors will not affect historic fabric and will not affect the National Register qualities of the building.


Contact Information
Henry P. Elliott
540-693-3200 x6030



Fredericksburg and Spotsylvania NMP proposes to address physical security issues at the War Department Maintenance Building (Chief Ranger Office - CRO). The work includes replacement of two doors.