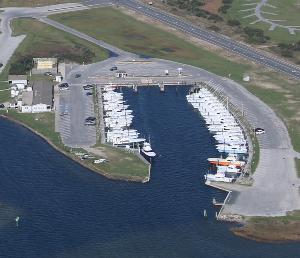 Oregon Inlet Marina Improvements Site Plan


Oregon Inlet Marina (marina) is currently operated by Oregon Inlet Fishing Center, LLC (OIFC or lessee) under a 20-year lease with the NPS (2018 - 2038). In general, OIFC provides the following services at the marina: slip rentals for charter fishing boats, headboats and tour boats; booking services for charter fishing and other boats; retail sales; fuel sales; and food & beverage sales. OIFC is also authorized to provide: non-motorized watercraft rentals (such as kayaks and canoes); special events, such as fishing tournaments; and a children's play area. Under the terms of the lease with the NPS, OIFC is responsible for the repair and maintenance of the marina premises during the lease term. Additionally, the lease requires that any alterations to the marina conducted by the lessee (as defined in the lease, including construction, modifications, rehabilitation, reconstruction, and/or restoration of the lease premises) be undertaken at OIFC's expense and approved by the NPS.

The marina premises is +/- 11.3 acres and consists of a retail building, marina basin with 61 wet slips, maintained landscape area (~ 1 acre), storage buildings, an exhibit building, asphalt parking area, fuel station booth, waste water systems, and a fuel system.

The project aims to address the following key issues:

•The main marina building was constructed 1963 - 1964 and all of the buildings within the marina are in poor condition and vulnerable to storm surge and sea level rise
•The location of the marine fuel docks causes boat traffic congestion and safety hazards within the marina basin
•The existing improved parking areas are inadequate to meet customer, visitor and employee needs
•Existing pathways and driveways do not support safe and efficient pedestrian and vehicle traffic flows
•The existing viewshed, including the outbuildings and dumpsters on the northwest side of the main marina building, detract from the visitor experience and views in this area of the Seashore
•Some marina slips are too shallow to accommodate charter fishing boats and the marina will require maintenance dredging in the future.


Contact Information
Sarah Merrill
252-475-0685



Oregon Inlet Marina (also known as Oregon Inlet Fishing Center) is a commercial charter fishing marina located within Cape Hatteras National Seashore (Seashore), south of Nags Head, North Carolina in the region of barrier islands known as the Outer Banks. As part of the National Park Service (NPS) system, the Seashore has permitted or contracted fishing center and marina operations at Oregon Inlet since 1953 and the marina has been in operation in its current location since December 1956.