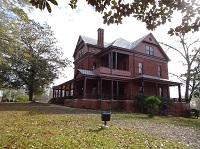 Refurbishment of The Oaks


The preservation project will take place with a youth partner organization and is anticipated to begin in the fall of 2019. The youth partner will organize seven (7) work sessions, each 16 days in length. Forty (40) volunteers seeking construction or historic preservation experience will be recruited from the local community, nonprofits, and nearby university.

The National Park Service encourages you to submit comments on this project or interest in volunteering by September 30, 2019 by clicking on the "Open for Public Comment" link on the left side of the screen.


Contact Information
Hillary Conley, 334-724-6033



Tuskegee Institute National Historic site plans to conduct preservation work at the Oaks, the historic home of Booker T. Washington and his family. The project will address years of deferred maintenance and critical preservation needs identified by recent park studies. The home's portico and decks, wood columns and soffits, masonry, concrete coping, windows, gutters, interior plaster, and paint will be repaired as outlined in the park's treatment plan and following the Secretary of Interior's Standards for the Treatment of Historic Properties.