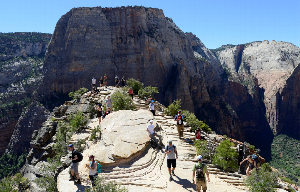 Proposed Lava Point Campground and Angels Landing Day-use Permit Fees
Please refer to the press release which describes the proposed fee for both Lava Point Campground and the day-use permit pilot for Angels Landing. It can be found be selecting 'Open For Comment' on the left hand side of this website.
For more details on how the system would work, see the ZION website Frequently Asked Questions page:
https://www.nps.gov/zion/learn/news/angels-landing-proposed-day-use-permit-and-lava-point-campground-fee.htm
Our national parks provide our citizens an opportunity to enjoy the great outdoors and a sanctuary for our spirit. The NPS strives to provide extraordinary experiences for visitors to ZION through safe, healthful and inspirational programs. The NPS also encourages your review and welcomes your comments regarding the visitor experience at ZION as well as any comments, questions, or suggestions related to the development and implementation of the Angels Landing pilot permit or other strategies for addressing crowding, congestion, or levels and timing of visitation. We look forward to hearing from you!
Contact Information
Susan McPartland
ZION Visitor Use Management
435-772-0154
Zion National Park (ZION) is beginning civic engagement to seek comments on a possible change to amenity fees associated with the Lava Point Campground and a day-use permit lottery to hike the one-half mile (0.5-mile) chain section of Angels Landing. A twenty-dollar ($20) nightly fee for campsites at Lava Point Campground is proposed. Additionally, a six-dollar ($6) lottery application fee and a three-dollar ($3) per person fee is proposed for visitors to access Angels Landing.