Project Links
A comment period for this project closes Feb 14, 2022:
Days, Hours, Min.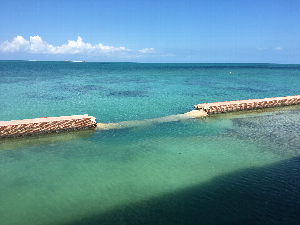 Repairs to the Fort Jefferson Counterscarp and Dredging of Selected Areas


As part of this process, we are inviting public comment on the action alternative concept that would address these issues. A newsletter with additional information may be accessed under "Document List".

You are invited to submit written comments by February 14, 2022. On the left column, click on 'Open For Comment' to open the comment fields.

Once we have refined the action alternative concept with public input, we will move to the next phase, which will include assessing compliance needs under the National Environmental Policy Act (NEPA) and other environmental regulations.

As we move forward with planning for the hurricane repairs at Dry Tortugas National Park, we encourage you to stay connected and be an active participant in this planning process. To be added to the Dry Tortugas National Park mailing list and receive plan notifications and updates please email: Glenn_Simpson@nps.gov.

Thank you for your interest and participation.

Sincerely,

Pedro Ramos
Superintendent


Contact Information
Glenn Simpson, Park Manager
305-224-4422



The National Park Service (NPS) is beginning the preparation of a plan for repairs to the Fort Jefferson counterscarp and dredging at selected areas at Dry Tortugas National Park. The counterscarp is the moat wall surrounding Fort Jefferson. The purpose of this project is to repair the sections of the Fort Jefferson counterscarp damaged by Hurricane Irma and remove the sand deposits that accumulated from the hurricane within the moat and finger piers. The repairs and dredging will be supported by construction funds allocated through Public Law 115-123 for national park units significantly impacted by Hurricanes Harvey, Irma and Maria.