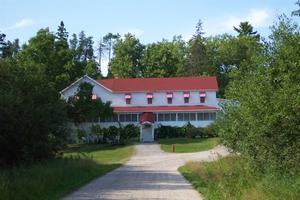 Prepare Site Development Plan for Kettle Falls


The historic hotel initially served those who worked on the dam, followed by lumberjacks, commercial fishermen, trappers, and traders. As commercial fishing declined over the years, tourists became the hotel's primary patrons. Today, Kettle Falls has become a popular destination for tourists in Voyageurs National Park as the region contains several docks, scenic trails, and lodging options.

The purpose of the Kettle Falls Site Development Plan is to provide a quality experience for visitors and employees in the Kettle Falls Historic District and surrounding area. The plan will consider improvements to recreational amenities, accessibility, wayfinding, and overnight visitor opportunities, and improvements to housing options for staff in the area while assuring the on-going protection of natural and cultural resources. The plan is needed to identify site improvements such as access for boats, houseboats, and seaplanes; additional concession staff housing and visitor overnight lodging; trails and other day-use amenities; or other amenities within a historic landscape.

Once the site development plan is complete, the compliance phase of the project will begin in which an environmental assessment will be prepared. The environmental assessment was prepared and resulted in a Finding of No Significant Impact (FONSI).


Contact Information
Leigh Johnson, Project Manager 402-661-1740
John Snyder, Biologist 218-283-6690



Kettle Falls and the Kettle Falls Historic District is located at the eastern end of the Kabetogama Peninsula. The area has a rich history and has been utilized by various peoples over time. Native Americans once gathered and hunted at the falls, voyageurs paddled and portaged through the area with their goods and furs, and prospectors stopped at the falls on their way to gold mines at Rainy Lake.