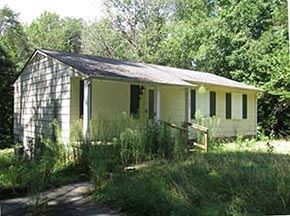 Removal of Non-Contributing House - Whitlock


The Whitlock House was built ca1970 and is a one story style house (with cinder block basement) with a small wooden deck off of the back side of the house. It is covered in composite wood clapboard siding. It sits on 1.78 acres and is 960 square feet in size.

The National Park Service originally acquired the property in 1986 as a life-estate. The park recently came into possession of the property.

In the 2017 update to the park's National Register of Historic Places documentation, the park's period of signifcance was determined to be 1768-1965. The Whitlock House falls outside that period and thus the structure was not determined to be a contributing structure on the Spotsylvania Court House Battlefield.

Per the park's current General Management Plan, "non-historic structures will be removed from the historic scene as they are acquired." The park now proposes to remove this building. It is possible that the house may be sold and moved from the property, but there has been little success with this approach. Additionally, the house is subject to the McKinney-Vento Homeless Assistance Act and efforts will be made to find another organization to move the house. If the house is not sold and/or removed, the park proposes to raze the building. Work will consist of the demolition and complete removal of debris from the structure. It will also include the breaking down of foundation walls to a level two (2) feet below ground level and removing this debris. This work also consists of the removal of the wood deck, driveway, and foundation located on the site. This project also consists of the work required to restore the disturbed areas to grass and follow the natural contours of the land. It covers filling, compacting, grading, spreading topsoil, applying lime, fertilizer, and grass seed as well as mulch. The long-term plan for the property is to allow nature to take its course and reclaim the land as part of the surrounding woods.


Contact Information
Eric J. Mink
540-760-7939



Fredericksburg and Spotsylvania National Military Park proposes to remove a non-contributing house, known as the Whitlock Property, from the Spotsylvania Court House Battlefield. The house is located at 8204 Brock Road, Spotsylvania, VA 22553.