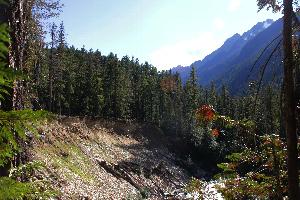 Lower Thunder Creek Trail and Camp Modifications Environmental Assessment


Flooding, erosion, and resource protection concerns have informed the proposed action. The preliminary proposal is to reroute 1,500 feet of trail and relocate a hiker and group camp in the vicinity of McAllister Camps on the Thunder Creek Trail. Additionally, the National Park Service proposes to construct a new administrative camp near Junction Camp another 3.5 miles up the same trail. A washed out bridge with very large steel stringers formerly used to access a closed camp would be removed by helicopter.

The purpose of this action is to minimize the impacts of hiker and stock use along the trail, thereby preserving wilderness character of the designated Stephen Mather Wilderness.

The need for the project flows primarily from the Organic Act of 1916 and the Wilderness Act of 1964 through the North Cascades National Park Wilderness Management Plan (1989) and the Ross Lake National Recreation Area General Management Plan (2012) by addressing visitor use management in light of recent environmental changes.

- For current status of the process click the "Plan Process" link on the left side of the page.
- For documents that provide more information about the project Click "Document List" on the left side of the page.
- "Open for Comment" will show if there are currently any public comment periods open.


Contact Information
Rob Burrows
(360) 854-7313



Per the requirements of the National Environmental Policy Act the National Park Service is preparing to develop an environmental assessment to make modifications to the trail and camps in lower Thunder Creek in the Stephen Mather Wilderness.