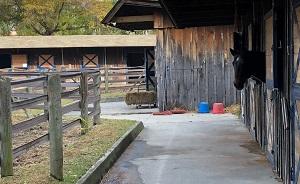 Redevelopment of the United States Park Police H1 Stables


The project area is located on federal land in Ash Woods, between Independence Avenue and Ash Road, east of the Korean War Veterans Memorial and west of the DC War Memorial. The National Mall and Memorial Parks (NAMA) NPS unit administers the project area. The purpose of the proposed project is to redevelop the horse stable facilities essential to the USPP mission as included in the approved National Mall Plan. The project is intended to improve horse living and stable conditions, provide adequate administrative space and storage, improve operational access, reduce vehicular and pedestrian conflicts, address drainage concerns, and engage the public through limited education/interpretation program. The project area is located in the East and West Potomac Parks Historic District, which is listed in the National Register of Historic Places and the DC Inventory of Historic Sites.

In accordance with the National Environmental Policy Act of 1969 (NEPA), the NPS will prepare an Environmental Assessment (EA) to evaluate the redevelopment of the USPP H1 Stables. he EA will address the project background, the purpose and need for the proposed actions, a determination of environmental issues and potential impacts resulting from the alternatives considered (including the no action alternative) , and public involvement and agency coordination. Concurrent to the NEPA process, the NPS and the Commission will conduct consultation under Section 106 of the National Historic Preservation Act of 1966 (NHPA). The NPS plans to consult with the public per 36 CFR 800.3(e) by holding public informational meetings and through its Planning, Environment, and Public Comment website.


Contact Information
Catherine Dewey, Chief of Resource Management, at (202) 245-4711



The National Park Service (NPS), with its partner, the Trust for the National Mall, will be making available for public review and comment an Environmental Assessment (EA) for the Redevelopment of the United States Park Police (USPP) Horse Stables (H-1 Substation).