Project Links
A comment period for this project closes Jun 14, 2019:
Days, Hours, Min.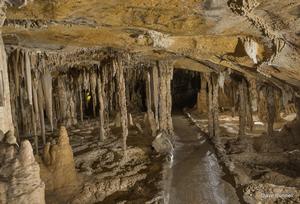 Lehman Caves Management Plan
The National Park Service (NPS) is developing a Lehman Caves Management Plan/Environmental Assessment for Great Basin National Park (GRBA).
The primary goal of the Lehman Caves Management Plan is to manage the cave in a manner that will preserve and protect cave resources and processes while allowing for respectful recreation and scientific use. More specifically, the intent of this plan is to manage Lehman Caves to maintain its geological, scenic, educational, cultural, biological, hydrological, paleontological, and recreational resources in accordance with applicable laws, regulations, and current guidelines such as the FCRPA, 43 CFR Part 37, and National Park Service Management Policies.
Great Basin National Park is interested in hearing your thoughts on the proposed action. We will be accepting feedback during a 30-day comment period between May 15 and June 14, 2019. During this period, the public is encouraged to comment on the proposed action and identify any issues or concerns. Feedback will be used to develop the Environmental Assessment for this plan.
In addition, a Wild Caves and Karst Management Plan will be available for public comment during the same time period, and is available on the National Park Service Planning, Environment, and Public Comment (PEPC) website:
https://parkplanning.nps.gov/WCKMP
.
A public meeting for both of these cave management plans will be held at Great Basin National Park on June 3, 2019
Contact Information
Gretchen Baker, 775-234-7541