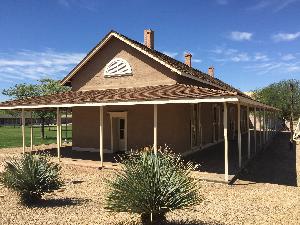 Yuma Crossing Quartermaster Depot Reconnaissance Survey


This reconnaissance survey evaluated the Yuma Quartermaster Depot (now Colorado River State Historic Park), a complex of six buildings that are a component of the Yuma Crossing and Associated Sites National Historic Landmark District and part of the Yuma Crossing NHA. Established in 1864 by the United States military, the Yuma Quartermaster Depot was used for offloading supplies from San Francisco to be transported to forts throughout the southwest. After construction of the railroad in 1877, the depot was made obsolete; however the Bureau of Reclamation used this site as its headquarters in the early 1900s to build the first series of dams and canals on the Colorado River.

A reconnaissance survey provides a preliminary evaluation of a resource for its likelihood to meet the criteria for potential inclusion in the National Park System. Reconnaissance surveys typically examine the issues of national significance, suitability, feasibility, and level of National Park Service (NPS) management required, and determine if further evaluation through a special resource study is warranted.

Please see "Document List" on the left sidebar to read the completed survey.


Contact Information
Jeremy Sweat
Chief of Planning and Compliance
NPS Regional Office Serving DOI Regions 5, 6, 7, 8 & 9
12795 W. Alameda Pkwy.
Lakewood, CO 80228
Office: (303) 969-2551



At the request of the late Senator John McCain, the National Park Service conducted a reconnaissance survey to evaluate the Yuma Quartermaster Depot in Yuma, Arizona as a potential unit of the National Park System and assess the interpretive approach that the Yuma Crossing National Heritage Area (NHA) has developed for the site.