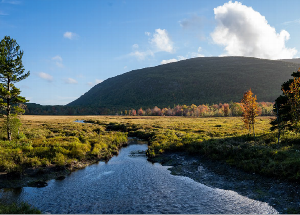 Great Meadow Restoration


The purpose of the plan is to improve the natural function and species diversity of the wetland, while reducing damage and maintenance to park facilities. The project includes replacing the culvert at the outflow of the Great Meadow, restoration of Cromwell Brook, removal of non-native invasive plant species with native plant restoration, targeted wetland restoration, and visitor-use improvements to increase accessibility and enjoyment of the area.

Past development impacting the natural hydrologic function of the Great Meadow wetland system include: the culvert outlet at the Park Loop Road, drainage ditches within the wetland, and abandoned raised roadbeds. These structures have altered the natural function of the wetland and created conditions for disturbance tolerant and invasive plants species to thrive. The existing culvert is undersized and restricts the natural flow of Cromwell Brook and migration of aquatic species. During high intensity rain events, floodwaters backup upstream of the culvert, contributing to flooding of the Sieur de Monts area.


Contact Information
Jason Flynn
207-288-8730



The National Park Service is beginning to develop a restoration plan for the 116-acrea Great Meadow wetland at Acadia National Park. Monitoring and research within the park have identified Great Meadow as a poor-quality wetland because of its high abundance of invasive plants, hydrological disturbance, and external stressors from generations of development.