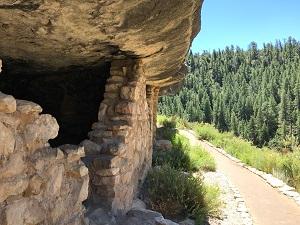 Walnut Canyon National Monument Proposed Entrance Fee Increase
Flagstaff Area National Monuments is proposing a change to its entrance fee rate for Walnut Canyon National Monument to align with the National Park Service rate schedule. The new proposed fee will increase the cost of per person entry at Walnut Canyon would change from $8 to $10 for a 7-day pass. The proposed timeline for increasing the Walnut Canyon entrance fee is January 2018. Entrance fee increases are not being proposed for Sunset Crater Volcano and Wupatki National Monuments, as those fees are already consistent with the National Park Service fee rate schedule.
Entrance fees are not charged to persons under 16 years of age or holders of the America the Beautiful National Parks and Federal Recreational Annual, Senior, Access, Military, or Volunteer Passes. These passes may be obtained at the monuments.
"We are committed to keeping Walnut Canyon affordable but we also want to provide visitors with the best possible experience," said Flagstaff Area National Monuments Superintendent Kayci Cook Collins. "We use the money from entrance fees to maintain, repair and improve our facilities, enhance visitor services and protect and preserve park resources."
The additional revenue from the fee increase would be used to restore and rehabilitate monument facilities, enhance visitor services, and increase resource protection. Projects that have been started and/or completed with fee revenue over the past two years include: habitat restoration on the canyon rim near historic Ranger Cabin, preservation treatments to improve visitor safety at archeological sites, and repair and replacement of trail exhibits. Revenue generated from the proposed fee increase will be used to make repairs to Walnut Canyon's trails (retaining walls and trail surfaces) and the visitor center, and to conduct preservation treatments on additional archeological sites visited by the public.
Walnut Canyon is a strong economic engine for the Flagstaff area. In 2016, more than 152,000 visitors to Walnut Canyon spent $8.9 million in communities near the monuments. This spending supported 130 jobs in the local area related to tourism.
The public is encouraged to comment about Walnut Canyon's proposed new entrance fee.
We invite the public to submit comments electronically via the National Park Service's Planning Environment and Public Comment (PEPC) website:
http://parkplanning.nps.gov/WACA_fees
.
Comments will also be accepted in writing (hand-delivery, by mail, or fax). To submit written comments, you may mail or hand-deliver your comments to Chief of Interpretation and Education, Attn: Proposal to Increase Fee at Walnut Canyon NM, 6400 N. Hwy 89, Flagstaff, AZ 86004. In addition, faxed comments will be accepted at (928) 526-4259.
Comments submitted by e-mail and anonymous comments will not be accepted. Bulk comments in any format submitted on behalf of others will not be accepted. All public comments must be received by November 3, 2017. This feedback will determine how, or if a fee increase would be implemented.
Contact Information
Kayci Cook Collins, Superintendent
928-526-1157