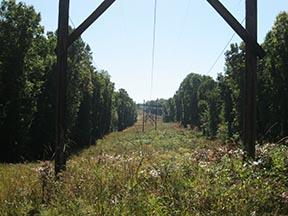 Replace Dominion Energy Overhead Transmission Towers on Fredericksburg Battlefield


The aging infrastructure associated with the current 34-mile right-of-way corridor is need of replacement. Additionally, Dominion plans to prepare for increased capacity to serve the high growth areas in the counties of Hanover, Caroline and Spotsylvania, as well as the City of Fredericksburg. The aging infrastructure must be rebuilt to ensure its continued safe and reliable operation.

The park proposes to allow Dominion Energy to replace the aging transmission towers along the approximately ¾-mile right-of-way corridor that extends through NPS lands on the Fredericksburg Battlefield. There are eight towers within the right-of-way that are proposed to be replaced. Each existing tower is constructed of wood poles and are known as "H-frame" structures. The towers average 72 feet in height. The proposal is to replace each tower with a new structure comprised of steel poles, also in the form of "H-frame" design, but at an average height of 78 feet. The increased height and use of steel instead of wood will allow for increased carrying capacity and strength. Installation of the towers will involve excavation to pour concrete footers for the poles. The older wood towers will be removed.

See attached Section 106 Effect Report and associated documents for details.




Fredericksburg & Spotsylvania NMP proposes to allow Dominion Energy to replace its overhead transmission line towers inside its right-of-way on the Fredericksburg Battlefield.