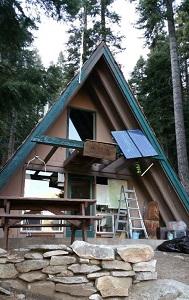 Rehabilitate Dilapidated Bearpaw Visitor Contact Station in Sequoia National Park


The proposed project, if approved would take place in early fall of 2018, after the Bearpaw High Sierra Camp has closed for the season. The current ranger station, a 480 square foot 'A-frame' serves as a base for wilderness operations and management along the High Sierra Trail. The station would be deconstructed and removed from the park with materials being recycled to the extent practicable. The current cabin has been determined to be a non-contributing structure in the Determination of Eligibility for the Bearpaw High Sierra Camp Historic District.

The proposed new ranger station, would be constructed of traditional log walls with a 12/12 pitched conventional roof. The walls would be log to blend with the other historical structures in the area and would be designed to be animal proof and low maintenance with secure and adequate storage. The project would include built-in storage cabinets to accommodate equipment and necessary supplies for ranger activities. Solar panels, wiring, battery, inverter, and two lamps would be replaced as part of project.

Replacement would involve offsite construction of the ranger station walls and roof. The ranger station would then be disassembled, then transported via stock and/or helicopter to the project site at Bearpaw. Park staff would then reassemble the cabin onsite on the same foundation that supported the previous ranger station.

This project is part of the implementation of the Sequoia and Kings Canyon National Parks Wilderness Stewardship Plan, approved in 2015.

The NPS is interested in any public concerns, potential issues, or opportunities related to the proposed project. After analyzing comments received during scoping, the NPS will determine the level of analysis needed.


Contact Information
Superintendent Woody Smeck
559-565-3101



The National Park Service (NPS) is initiating public scoping on a proposal to replace a dilapidated wilderness visitor contact station (ranger station) located at the Bearpaw High Sierra Camp in Sequoia and Kings Canyon National Parks. The existing ranger station is located at the Bearpaw High Sierra Camp, a concessioner-operated overnight camp within a designated potential wilderness addition (DPWA). The High Sierra Camp is most commonly accessed via the popular High Sierra Trail and is 11 miles from the trailhead at Crescent Meadow. The project is designed to replace a failing structure with one that is more sustainable and compatible with the period of significance for the Bearpaw High Sierra Camp Historic District, which was listed on the National Register of Historic Places on April 21, 2016.