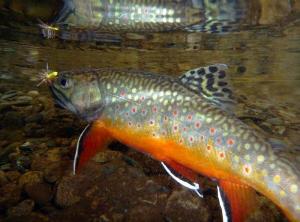 Restore Meadow Run Watershed to Mitigate Effects of Acid Rain


In October 2020, the National Park Service (NPS) requested your input on options to restore the Meadow Run Watershed. The NPS used this input and scientific research to prepare an Environmental Assessment (EA) under the National Environmental Policy Act (NEPA). The NPS also accepted public comments on the preferred alternative and potential impacts identified in the EA from January 29, 2021 through February 28, 2021. A Finding of No Significant Impact (FONSI) decision document was approved for the preferred action alternative by the NPS Northeast Regional Director on April 28, 2021. An implementation plan will be developed by the park and shared with the public prior to the project beginning.

To learn more about the proposal and access the EA and FONSI, click "Document List" on the menu to the left. We also encourage you to visit the project Story Map, a helpful visual guide to understanding the goals of restoring the Meadow Run Watershed, by clicking "Links" on the menu. Virtual public meetings were held in early February 2021; you may access a recording of the presentation by clicking "Links" on the menu.

Thank you for your interest in Shenandoah National Park!


Contact Information
Jim Schaberl, 540-999-3500 x3491



Years of acid rain in and around Shenandoah National Park has negatively affected soil and water quality in the Meadow Run watershed resulting in impacts to overall forest health. While pollution has decreased dramatically in the last two decades, many sensitive watersheds like Meadow Run do not have the capacity to restore themselves naturally. Therefore, the National Park Service (NPS) is embarking on a process to improve aquatic and terrestrial ecosystem health in this degraded watershed. One option being considered to reduce the negative effects of acid rain is to apply limestone sand to the Meadow Run watershed via helicopter.