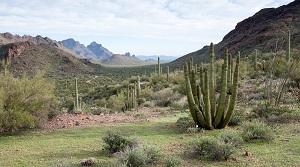 Proposed Increase of Fees


Current vehicle entrance fee is $12, proposed fee increase to $20.
Current motorcycle entrance fee is $12, proposed fee increase to $15.
Current walk-in or bicycle fee is $4/person, proposed fee increase to $10.
Current Twin Peaks Campground fee $16/night ($8 for seniors) to $20/night ($10 for seniors)
Alamo Canyon Campground fee $10/night ($5 for seniors) to $12/night ($6 for seniors).
Current Group Camping fee is $5/person (6 person min), proposed increase to $50/night.
Ajo Mountain Drive Van Tour, currently no charge, proposed amenity fee to $5/person.

Senior and Access passes are honored for a 50% discount on individual campsites. All entrance fees are valid for 7 days.

Owners of valid Federal passes such as the Senior Pass, Access Pass, Military Pass, and other America the Beautiful Annual Passes are admitted free of charge under the established guidelines. These passes will continue to be available and honored at the park.

Organ Pipe Cactus NM is one of the 120 units, out of 417 in the NPS that collect an entrance fee. The NPS units across the nation that charge entrance fees are organized into four different groups based on the type of park and services offered. This proposed fee change is consistent with other National Monuments that are grouped with Organ Pipe Cactus NM, such as Sunset Crater Volcano National Monument and Wupatki National Monument.

Entrance fees at Organ Pipe Cactus NM are used to improve accessibility, rehabilitate trails and trail signs, develop new exhibits for the Kris Eggle Visitor Center, update interpretive wayside signs, and replace shade ramadas at picnic areas and install new picnic areas with shade structures. Recently, fees were used to upgrade the Alamo Canyon Campground to make it wheelchair accessible. Upcoming projects include: Construct accessibility walkways, replace two shade ramadas, replace and update trail and interpretive signs at several trails, remove encroaching vegetation from Quitobaquito Pond, repair and preserve the historic Gachado Ranch House, and repair asphalt parking lots.

Beginning this fall, reservations for the Twin Peaks Campground will be made using Recreation.gov. The increased camping fees will help defray the cost for the service and convenience of on-line booking.

The park is proposing a new $5 charge, an amenity fee for the Ajo Mountain Drive van tours that are typically offered January through March, from the Kris Eggle Visitor Center. Currently, visitors are invited to sign up in advance for this popular three-hour tour that is free of charge. The tour can accommodate up to ten visitors and is led by a member of the park staff. If this $5 fee is adopted, the money would be used to offset park expenses for the tour.

All fee increases and amenity fees will bring the park in compliance with the current Nation-wide National Park Service fee structure and address many unfunded needs to improve the overall visitor experience.


Contact Information
Ernie Price
520-387-6849 X 7301



Per the National Park Service fee structure, Organ Pipe National Monument (NM) is proposing to increase the park's entrance and camping fees. An amenity fee for the Ajo Mountain Drive van tour is also proposed. The proposed fees increase will be the first for Organ Pipe Cactus NM since 2005, with the exception of a partial implementation of the 2014 NPS fee structure when the monument's backcountry reopened in 2015. To bring the Monument's fee structure in line with the NPS from 2014, the park is soliciting public input.