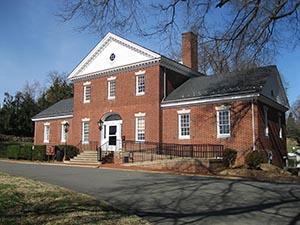 Replacement of Storm Doors on the Fredericksburg Battlefield Visitor Center


The Fredericksburg Museum and Administration Building was built as a Works Progress Administration project that commenced in 1935. The building was designed to house offices for park staff, including the superintendent. The basement contained offices, restrooms, a storage room, boiler room, and an exhibit space. The main entrance floor contained more offices, an exhibit space, and a lecture room. The second floor contained strictly offices. The building was completed in 1936.

56,463 visitors passed through the visitor center doors in 2016. On a busy summer day, 200 visitors might come through the building. The front and rear doors serve as the only access to and from the building. To facilitate the use as a visitor center and provide an inviting appearance, the large heavy wood doors are left open. While it remains unknown when storm or screen doors were first added to the building, they were in place by the 1960s. The current storm doors, installed in 2004, are vinyl and glass and are in need of replacement. The continued opening and closing of the doors, hundreds of times each day, can affect the environment of the building, with modest changes to the inside temperature and humidity. Additionally, the afternoon sun beats down on the south façade of the building, also affecting modest changes to the interior climate. The park plans to replace the current storm doors with something more substantial that will create a better seal when closed and will include better insulation.

Under the guidelines of Section 106 of the National Historic Preservation Act, FRSP is soliciting public comments on this project. Written comments, either through this website or via postal letter, will be accepted only during the 30 day public review period.


Contact Information
Eric J. Mink
Historian and Cultural Resources Manager

Fredericksburg & Spotsylvania NMP
120 Chatham Lane
Fredericksburg, VA 22405
Eric_Mink@nps.gov



The Fredericksburg & Spotsylvania National Military Park proposes to replace two storm doors on the Fredericksburg Battleifled Visitor Center.