Project Links
A comment period for this project closes Feb 18, 2019:
Days, Hours, Min.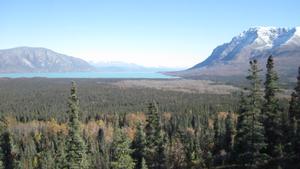 Research Bay Trail and Viewing Platform
The Planning, Environment and Public Comment (PEPC) website is NPS's primary tool dedicated to facilitating public input into decision making processes. The PEPC website was taken offline during the government shutdown, which prohibited the ability of affected parties and the public to provide comments on any projects or proposals whose comment periods were open between December 21, 2018, and Feb 4, 2019, when PEPC was put back in service. To ensure that the public has ample opportunity to review and comment, the comment period for this proposal will reopen on Feb 4, 2019 and be extended through Feb 18, 2019. Any written comments received or comments entered into PEPC prior to the shutdown will be considered and included in the overall project record.
Katmai National Park and Preserve has prepared an Environmental Assessment (EA) to analyze the construction of an overlook platform at the Research Bay Overlook along the Valley of Ten Thousand Smokes Road in Katmai National Park and Preserve. The project includes the following objectives:
1) Construction of a 12 foot by 20 foot viewing platform at the Research Bay overlook;
2) Construction of a 150 foot trail from Mile 8 of the Valley of Ten Thousand Smokes Road to the Research Bay overlook that is in compliance with the Americans with Disabilities Act (ADA) and Architectural Barriers Act (ABA) accessibility standards;
3) Installation of interpretive signage on the viewing platform, and;
4) Improvements in safety conditions at the Research Bay overlook due to the elimination of social trails with potentially steep drop-offs and unimproved surfaces.
We welcome feedback on this project from our friends, neighbors, stakeholders, and other interested parties. The closing date for public comment on this project has been extended until February 18, 2019 to ensure the review of this project is not negatively affect by the lapse in government appropriations.
- NPS -
Contact Information
Brian Smith
Environmental Protection Specialist
Katmai National Park and Preserve
907-644-3533