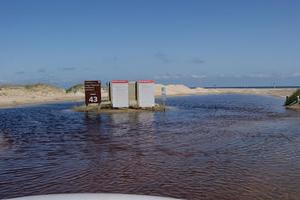 Flood Mitigation Management Planning at Cape Point


Several locations, including the Cape Point Campground, beach parking lots (near ramp 43 and old ramp 45), the Cape Hatteras Lighthouse parking lot, off-road vehicle ramps 43, 44, and 49, Lighthouse Road, and areas around the Seashore's administrative offices, have experienced persistent flooding over the last decade. Although most Seashore facilities have remained open while flooded, flooding can diminish the visitor experience and make access to some areas challenging during large rainfall events.

The Seashore will evaluate the best available information on the hydrology and elevation in the flood-prone areas and evaluate options for flood mitigation. A 45 day public scoping period began on September 21 and has been extended until November 20.

The public was invited to the following meetings:

Wednesday, October 19, 6-7:30 pm - Dare County Administration Building, Commissioners Meeting Room, 954 Marshall C. Collins Dr, Manteo, NC 27954

Thursday, October 20, 6-7:30 pm - Fessenden Center, Activity Room, 46830 NC-12, Buxton, NC 27920

Comments can be made here, from September 21 to November 20, by clicking on the "Open for Comment" text at the left and selecting the News Release document then clicking "Comment Now" button. Comments can also be mailed to: Superintendent, Cape Hatteras National Seashore, 1401 National Park Dr, Manteo, NC 27954.




Contact Information
Sabrina Henry
252-475-9019



Persistent flooding has occurred in the Cape Point area of Cape Hatteras National Seashore over the last 11 years. In September, Cape Hatteras National Seashore (Seashore) initiated a public scoping period and held two public meetings in October to obtain feedback and ideas from the public on Seashore areas that experience flooding in the Buxton and Frisco areas.