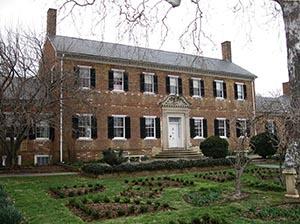 Installation of Safety Handrails on Chatham Manor


The eastern and western main entrances to Chatham Manor have been identified as concerns by the park's safety committee. At least once a year, a park visitor takes a tumble down the steps. The limestone elliptical steps were installed during the 1920s renovations at Chatham and replaced standard brick and stone steps. The elliptical steps have non-typical treads and risers at 15" depth and 6" height. These unusual dimensions, along with slippery conditions during inclement weather, have led to a number of injuries among our visitors. Although the house has a designated handicap entrance with a ramp and railings, visitors approaching the main east entrance to the house often don't see the alternative access. Therefore, the park is proposing to provide some assistance to our visitors by installing one handrail each on the west and east entrances of the main house.


Contact Information
Eric J. Mink
Historian and Cultural Resources Manager

Fredericksburg & Spotsylvania NMP
120 Chatham Lane
Fredericksburg, VA 22405
Eric_Mink@nps.gov



Fredericksburg & Spotsylvania NMP proposes to install two iron handrails to the east and west entrances at Chatham Manor.