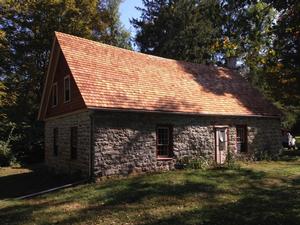 Historic Buildings Strategy


In order to be included in the HBS, a property or building must meet 3 criteria: it must be listed or eligible for listing in the National Register of Historic Places; it must be older than 45 years in age; and it must not be severely deteriorated (collapsed or nearly collapsed).

Many of the 286 buildings at Delaware Water Gap National Recreation Area that meet the criteria for inclusion in the HBS are found in groupings, such as on a former farmstead where there is a house, outbuildings, and agricultural landscape features such as fields and fencerows. These are referred to as "historic properties" in the HBS. There are 97 historic properties within the park. Those properties have been prioritized into one of four categories based on review and analysis of historic significance, interpretive value to park visitors, physical condition, and potential future use/s. The categories and descriptions are as follows:

Category A: These properties are top priorities for preservation due to their historic significance. They are in good or fair condition have high interpretive value. Category A properties that are currently in use are a top priority for continued maintenance and rehabilitation projects. Properties that are currently vacant are excellent candidates for rehabilitation and adaptive reuse.

Category B: These properties are often not as historically significant as Category A properties but are in good or fair condition and have high or moderate interpretive value. Properties that are currently in use will continue to be maintained, and properties that are currently vacant are good candidates for rehabilitation and adaptive reuse.

Category C: These properties may have some historic significance but are in fair or poor condition and have fair or poor interpretive value. The park would issue requests for proposals for as-is leasing for properties and would not perform maintenance other than what is needed for safety and security. If properties are not able to be leased, they would be moved into Category D.

Category D: These properties are in fair to poor condition and have poor interpretive value. These properties would not be preserved in the long term.

Please go to Document List to view the draft strategy for prioritizing historic properties for funding and preservation. Click on "Comment Now" after reviewing the documents to leave your feedback online. This is the third and final civic engagement period on the strategy since the project was launched in 2016. Comments will be accepted from July 12 to August 10, 2021.


Contact Information
Jennifer Palmer, Cultural Resources Manager



Delaware Water Gap National Recreation Area has drafted a Historic Buildings Strategy (HBS). The draft HBS outlines priorities for the long-term management, preservation, and maintenance of historic buildings in the park and will guide park management in making decisions on funding and preservation efforts.