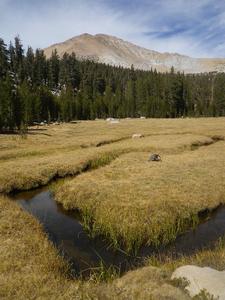 Proposed Kern River Rainbow Trout Project for Sequoia National Park
National Park Service (NPS) Management Policies 2.4.4, states that a take of wildlife may be allowed if it supports cooperative species conservation purposes. The proposed project is consistent with the conservation purpose of the Wilderness Act and the National Park Service's mission. National parks and wilderness areas are increasingly the only source for genetically pure native species. Interestingly, the purity of the source populations in Sequoia National Park is an artifact of past wildlife management practices when fish were routinely introduced to park waterbodies from the late 1800s to the late 1900s. The KRRT is native to Sequoia National Park in the mainstem Kern River, where it has completely hybridized with non-native stocked trout. The populations involved in this project were transplanted from the Kern River before the native population became hybridized.
The fish would be removed via angling and held in water receptacles for transport. This method is a proven fisheries management practice with a high success rate. A total of 100 fish at least 4 inches long would be collected and transported from each population to the Kern River Fish Hatchery in Kernville, California for propagation. Fifty fish from each population would be collected per year for two years to minimize potential for short-term adverse impacts on the three source populations. Visual estimates of KRRT abundance collected over the past few years indicate that the parks' KRRT populations are of sufficient size such that proposed collections should not impact long-term sustainability.
The proposed action would enable a genetically pure strain native trout to be restored to former habitat where it is expected to enhance wilderness and non-wilderness recreational experiences in its "original California source watersheds."
The NPS is interested in any public concerns, potential issues, or opportunities related to the trout collection. After analyzing comments received during scoping, the NPS will determine the level of analysis needed.
All written comments about this project must be transmitted, postmarked, or hand-delivered by June 3, 2015.
To respond electronically, submit your comments via the PEPC website at
http://parkplanning.nps.gov/seki
.
To submit hard-copy written comments, you may send them via mail or hand-deliver to: Superintendent, Sequoia and Kings Canyon National Parks, Attn: Kern River Rainbow Trout, 47050 Generals Highway, Three Rivers, CA 93271. Faxed comments will be accepted at (559) 565-4202.
Please note, before including your address, phone number, e-mail address, or other personal identifying information in your comment, you should be aware that your entire comment - including your personal identifying information - may be made publicly available at any time. While you can ask us in your comment to withhold your personal identifying information from public review, we cannot guarantee that we will be able to do so.
Contact Information
If you have specific questions or concerns related to this project, contact Nancy Hendricks at 559-565-3102 or Chanteil Walter at 559-565-4266.
The public is welcome to comment on a project proposed by the California Department of Fish and Wildlife (CDFW) to collect genetically pure Kern River rainbow trout (KRRT) from three populations located in the wilderness of Sequoia National Park. The State of California, through its Heritage and Wild Trout Program proposes to restore the naturally indigenous Kern River rainbow trout to their original California source watersheds. In 2013, CDFW determined that Sequoia National Park supports the best populations of KRRT for conservation and native source watershed restoration.