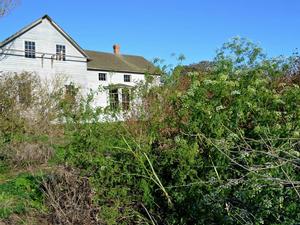 Poison Hemlock Management Plan


UPDATE: thank you for your review and comment. Please refer to the comment summary.

Poison hemlock, the plant which killed Socrates, is a poisonous weed invading many areas of the Reserve including the iconic bluffs, farmland, prairie and shoreline in the vicinity of Ebey's Landing.

The purpose of this implementation plan is to provide concise guidance as to how various landowners in the Project Area may coordinate their efforts in order eradicate poison hemlock. The Project Area includes land owned by four entities: Washington State Parks, the National Park Service, the Nature Conservancy and Ebey Road Farm. Substantial progress has been made in recent years to reduce the abundance of this weed; however, coordinated and conistent action is still needed to eradicate the plant and avoid harming farms, pastures, wildlife and people.

A working draft Plan has been prepared by Jessica Kim, a Student Conservation Association Intern working for the NPS. The draft Plan is now available for your review and critical comment. Please click on the "Document" link to download the draft Plan. Comments may be submitted directly through this website.

Comments are requested by Monday, April 13, 2015. After reviewing comments, we will prepare a revised draft for formal agency and public review.


Contact Information
For more information, please contact Roy Zipp, Acting Operations Manager for Ebey's Landing National Historical reserve: 360-678-5787.



Dear Colleagues: