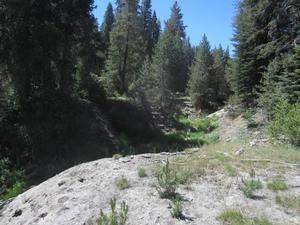 Restoration of Ecosystem Function in Cahoon Meadow, a Severely Eroded Wilderness Wetland in Sequoia National Park


Cahoon Meadow is a 25-acre wetland complex that has been severely degraded by past grazing practices and erosion. Currently, there is a 17-foot- deep by 60- to 90-foot-wide gully that is adversely affecting the wetlands complex. Portions of the wetland have been completely drained of water, creating large areas of dry, bare ground and dead vegetation. The NPS is considering three alternatives, ranging from no action with continued monitoring (Alternative A); stabilizing the meadow with a machine-built rock chute to protect the meadow from further erosion (Alternative B); or, filling the gully to fully restore and protect the wetland (Alternative C).

All written comments about this project must be transmitted, postmarked, or hand-delivered by April 22, 2016.

The NPS is interested in any public concerns, potential issues, or opportunities related to the proposed project. This EA provides the opportunity for the public to provide input on whether it is more important to preserve the untrammeled and undeveloped qualities of wilderness character by taking no action or to restore and protect the natural quality of wilderness character by taking action. As no funding is yet available for implementation, if an action alternative is approved, funds specifically targeted for wetland restoration and/or disturbed lands restoration would be sought from sources inside and outside the NPS.

If no action is taken, the existing meadow would continue to degrade, possibly leading to total loss of wetlands at Cahoon Meadow.

The environmental assessment is posted on this site to allow for public review and comment.


Contact Information
Nancy Hendricks
559-565-3102



The National Park Service (NPS) has prepared an environmental assessment on a proposal to evaluate a full range of ecological restoration options to address a large erosion gully in Cahoon Meadow, located within the John Krebs Wilderness of Sequoia National Park. The purpose of this project is to protect and restore wetlands in Cahoon Meadow. To obtain supplemental information please see the documents available under 'Document List.'