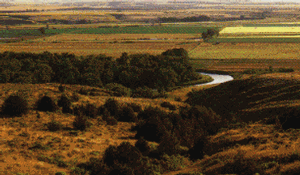 General Management Plan Amendment
Dear Friends and Neighbors of Little Bighorn Battlefield National Monument,
I am pleased to announce the General Management Plan Amendment / Environmental Assessment (EA) for Little Bighorn Battlefield National Monument is available for review. The preferred alternative identified in the EA includes building a new visitor center within the footprint of the existing visitor center and at minimum returning priority museum objects to the park through the provision of an appropriate curatorial space. The EA and documentation per Section 106 of the National Historic Preservation Act for the proposal are available for review and comment from November 17, 2017 to January 4, 2018.
This general management plan amendment will help the park address a number of pressing issues related to the visitor center including appropriate storage of the park's museum collections, access to these important collections, and impacts to the visitor experience.
An on-line public meeting is scheduled for Thursday, December 14, 2017 from 2:00 pm to 4:00 pm MST. A link to the on-line meeting and the call-in number is included below. All materials for the meeting are posted on this site. If you are unable to join the on-line meeting we hope you will join the audio for the meeting so you can hear the presentation and follow along with a copy of the presentation. There will be an opportunity to ask the planning team questions about the plan during the meeting.
I encourage you to submit your comments on the plan using this site. Written comments can also be sent to:
National Park Service, Denver Service Center—Planning
Attention: Erin Flanagan
PO Box 25287
Denver, CO 80225-0287.
We have appreciated your participation on this important project to date and look forward to your continued involvement as we implement the plan.
Sincerely,
Wayne Challoner, Superintendent
Little Bighorn Battlefield National Monument
Meeting Information:
December 14, 2017
2:00 p.m. - 4:00 p.m. MST; please join by 1:55 p.m. so we can begin on time.
JOIN ON-LINE MEETING:
https://natlpark.webex.com/natlpark/j.php?MTID=mbaec09e17db88aa9c653da52cc02176d
Meeting number: 808 478 391
Meeting password: mdGKF336
Call in: (866) 714-0783
Participant code: 4244998#
Contact Information
Wayne Challoner
Superintendent
Little Bighorn Battlefield National Monument
406-638-3201
Erin Flanagan
Project Manager
Denver Service Center, Planning Division
303-969-2327