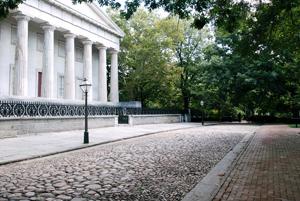 Block 200: Replace Second Bank Block Hazardous Walkways and Repair Underground Drains


For additional information and documents pertaining to this project, please select 'Document List' from the column on the left side of this screen.

We welcome your input on this project. To share your thoughts, ideas, and concerns with us please select the Summary Project Description document from the Open For Comment list on the left side of the screen and enter your comments there. The project will be open for comment from 08/20/2014 - 08/27/2014.

You may also send your comments to the park using the following contact information:


Contact Information
Doris Fanelli, Chief
Division of Cultural Resources Management
Independence National Historical Park
143 South Third Street
Philadelphia, PA 19103
215-597-7087
doris_fanelli@nps.gov




Independence National Historical Park is planning improvements to the sidewalks and walkways on the block surrounding the Second Bank of the United States. The project area is located in the heart of the park and is bounded by South 4th Street on the east, South 5th Street on the west, Chestnut Street on the north and Walnut Street on the south. The paved areas on the block are, in some cases, more than fifty years old and are now, due to settling and lifting, uneven in places. The poor condition of the surface and of the underlying drainage system also results in ponding in some areas following heavy precipitation. In order improve pedestrian safety and enhance visitor enjoyment the park proposes to replace portions of the brick and bluestone walkways and repair the drainage system on this block. In an effort to improve drainage, the park also proposes to remove 6 London planetrees on the east and west sides of the Second Bank of the United States and to replace the trees with honey locusts. A small brick amphitheater in the southeast quadrant of the block will also be removed.