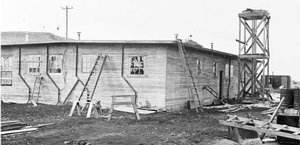 Tule Lake Segregation Center Jail Restoration EA
The National Park Service has completed the Draft Environmental Assessment for the proposed restoration of the Segregation Center Jail at the Tule Lake Unit, WWII Valor in the Pacific National Monument. It is through your cooperation that the National Park Service will be able to share its valuable lessons with the public and act as a catalyst in telling this important American story.

Contact Information
For additional information, please contact monument Superintendent Larry Whalon at (530) 667-8101.