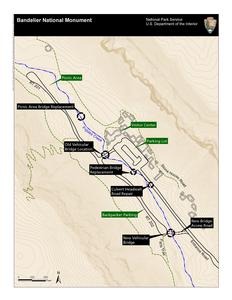 Reconstruct flood damaged motor and pedestrian bridges
The National Park Service (NPS) is making available for public review an Environmental Assessment (EA) for replacement of a motor vehicle bridge and two pedestrian bridges that were removed as a result of flooding. The proposed project would reestablish safe pedestrian and motor vehicle access to the picnic area, parking, and trailheads on the west side of the Rito de los Frijoles (Frijoles Creek).
Because public participation is very important to the success of the project, the NPS encourage your review and comment on the EA. The EA will be on public review with comments accepted through February 15, 2015. The document is available electronically for review and comment online by visiting
http://parkplanning.nps.gov/band
, the website for the NPS's Planning Environment and Public Comment (PEPC) system.
Commenters should be aware that their entire comment - including personal identifying information - may be made publicly available at any time. While commenters can ask that their personal identifying information be withheld from public review, the National Park Service cannot guarantee that this will be possible.
Contact Information
Joseph Gurule, Facility Manager
(505) 672-3861 x 306
joseph_gurule@nps.gov
Public Comment Sought on Replacement of Motor and Pedestrian Bridge