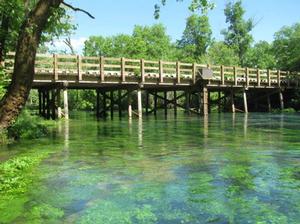 Big Spring Bridge Project


Big Spring Bridge is located in the Big Spring Historic District and provides access to the Big Spring area, as well as cabins, a dining lodge and picnic shelters. The Big Spring is the largest spring in Missouri, and one of the largest springs in the country.


Contact Information
Lisa Landers
Environmental Protection Specialist
Federal Highway Administration
21400 Ridgetop Circle
Sterling, VA 20166
Lisa.Landers@dot.gov
(571) 434-1592



The National Park Service (NPS) is working in cooperation with the Federal Highway Administration (FHWA) to make improvements to the Big Spring Bridge. The existing glulam timber bridge was constructed in 1977, and has deteriorated over time. An Environmental Assessment has been initiated to analyze a range of repair and replacement alternatives.