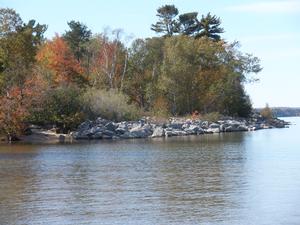 Recurring Modification of Non-Historic Rock Revetment to Maintain Natural Coastal Processes at Sand Point


The existing stone revetment was completed in 1991 as a flood control measure to protect Sand Point Road and the historic Coast Guard station (now park headquarters). The revetment altered the natural retention of sand at Sand Point, generally decreasing the size of the sand spit, a naturally occurring phenomenon. However, the revetment, which has degraded over time, is now mostly buried in sand, and sand deposition is once again occurring.

Under the proposed action, PIRO would leave the revetment in situ, allowing natural processes to occur and would take action only when one or more revetment stones become exposed above the sand or lake water level. When exposed rocks become accessible, PIRO staff would take one of the following actions, either individually or collectively.

Stone Removal: PIRO staff may remove individual stones as they become exposed, when possible. Depending on the size of the exposed stones, removal operations could involve hand tools or heavy equipment such as a backhoe and front-end loader. PIRO could use removed revetment stones for defining parking area boundaries and similar uses. Stones could also be crushed and used for filling holes or paving operations. Stone material could be removed from Sand Point by truck. Removal by truck would only occur with strict adherence to gross vehicle weight limits on area roadways and would generally involve pickup trucks or partially loaded small dump trucks.

Sand Deposition on Revetment: PIRO routinely removes accumulated sand from a small, shallow boat launch located at Sand Point. Under the proposed action, the dredged sand would periodically be transported from the boat dock area to the revetment and deposited on the existing revetment to cover exposed stones. Deposition of dredged sand on the revetment is expected to only occur a few times per year.



The National Park Service (NPS) at Pictured Rocks National Lakeshore (PIRO) proposes to periodically remove portions of an existing rock revetment at Sand Point to aid in restoration of natural conditions.