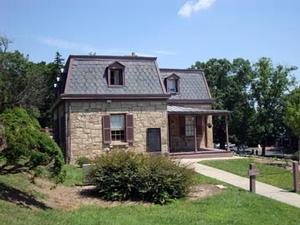 Installation of Ductless HVAC System in Fredericksburg National Cemetery Lodge


The Fredericksburg National Cemetery Lodge was constructed in 1871. Originally, the structure served as the home for the cemetery's superintendent. In more recent years, the park has used the lodge as housing for either permanant or temporary employees. The current heating system consists of a gas fired boiler in the cellar that serves hot water radiators located in each of the rooms in the building. The cooling system consists of air conditioning window units in some of the rooms. This is not a very energy efficient heating and cooling system.

The park proposes to improve the heating and cooling system in the lodge by installing a split-system HVAC system.


Contact Information
Eric J. Mink
Historian and Cultural Resources Manager

Fredericksburg & Spotsylvania NMP
120 Chatham Lane
Fredericksburg, VA 22405
Eric_Mink@nps.gov



The Fredericksburg & Spotsylvania National Military Park proposes to install a heating and air conditioning system to the Fredericksburg National Cemetery Lodge, in the Fredericksburg National Cemetery on the Fredericksburg Battlefield.