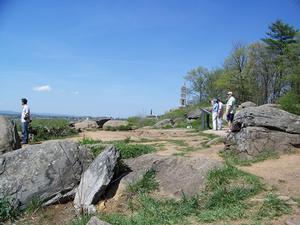 Environmental Assessment: Little Round Top Rehabilitation


The CLR provided treatment alternatives, there were used as the basis for the development of alternatives provided in this Environmental Assessment. To read the full Cultural Landscape Report, please visit the Park's homepage at www.nps.gov/gett.

This document reflects the planning purposes of the CLR. The purpose of the Environmental Assessment is: To provide solutions for overuse, overcrowding and landscape degradation and identify appropriate locations for visitor conveniences at Little Round Top, one of Gettysburg National Military Park's most heavily visited sites.

This document was prepared to satisfy the requirements of the National Environmental Policy Act (NEPA) and Section 106 of the National Historic Preservation Act (NHPA). This environmental assessment/assessment of effect (EA/AoE) examines two alternatives: the no-action alternative and the proposed action. The proposed action would result in both adverse and beneficial impacts on visitor use and experience, soils, vegetation, cultural landscapes, historic structures, and archeological resources. These impacts would be associated with construction activities, vehicle circulation patterns, parking capacity, pedestrian circulation patterns, and visitor gathering capacity.

Gettysburg National Military Park (the park) is located on 6034 acres of land in Adams County, Pennsylvania. The park was established in 1895 with the purpose of preserving the lines of battle, for marking the positions occupied by both armies on the field and for opening and improving avenues along the positions occupied by troops upon those lines. These positions were to be marked with suitable tablets, compiled "without praise, or censure." In addition, important topographical features of the battlefield are to be preserved. For more information about the park, go to www.nps.gov/gett.




Contact Information
Zachary Bolitho
Chief, Resources Management
717-338-4408



In 2012 NPS completed a Cultural Landscape Report (CLR) to address resource concerns and "to provide solution(s) for overuse, overcrowding and landscape degradation on and around the area known as Little Round top and to identify appropriate locations for visitor conveniences including restroom, parking, access and interpretive zones."