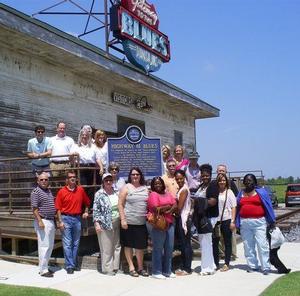 Mississippi Delta National Heritage Area Management Plan


The Mississippi Delta National Heritage Area was created by Congress in March 2009. Recognizing that the Mississippi Delta is a unique landscape which has created a distinct culture that is unusually rich in heritage stories, efforts began in 2003 to organize partners to promote National Heritage Area designation which must be given by an act of Congress.

In 2009, this goal was achieved when legislation was sponsored by Rep. Bennie Thompson, Senator Thad Cochran and Senator Roger Wicker. Following Congressional designation, the legislation was signed into law as part of the Omnibus Federal Land Management Act of 2009. The act was signed by President Obama on March 30, 2009.

The Mississippi Delta National Heritage Area includes 18 counties that contain land located in the alluvial floodplain of the Mississippi Delta: Bolivar, Carroll, Coahoma, DeSoto, Holmes, Humphreys, Issaquena, Leflore, Panola, Quitman, Sharkey, Sunflower, Tallahatchie, Tate, Tunica, Warren, Washington and Yazoo.

The mission statement developed for the heritage area is:

The Mississippi Delta National Heritage Area fosters preservation, perpetuation and celebration of the Delta's heritage through a climate of collaboration and sustainable economic development. Through a comprehensive and continual system of engagement and education, the National Heritage Area leads an inclusive network of partners, institutions and residents in achieving a regional vision. We create opportunities to save our special places, maintain our vibrant traditions, enhance community and cultural pride, support economic and social transformation and advance the appreciation and understanding of the Delta's important past and its continuing contributions to the American story. We focus on five themes: The Mississippi River and the Land It Embraces, The Culture of the Blues and the Birth of an American Sound, Moving Toward Freedom: Changing America's Character in the Struggle for Rights, Growing More than Cotton: The Delta as a Wellspring of Creativity, and The Delta Divide: Building Communities.

The Mississippi Delta National Heritage Area's draft management plan was developed through a two-year planning process that included public meetings, stakeholder interviews, research and engagement of people throughout the Delta in considering how the heritage area can help preserve, celebrate, interpret and promote the Mississippi Delta by working with partners throughout the 18 counties.

As the planning process enters its final phase, we invite your review and comments on the draft management plan posted here. Please review the plan and share your comments. The Mississippi Delta National Heritage Area's board of directors and staff will review and respond to all of the comments received after the end of the review period (January 24, 2014).

Thank you for your help in ensuring that this management plan will guide the Mississippi Delta National Heritage Area over the next decade to accomplish the mission statement and to achieve the goals and strategies included in the plan.





Contact Information
Luther Brown
Director
Mississippi Delta National Heritage Area
Delta Center for Culture and Learning
Delta State University
Cleveland, Mississippi
lbrown@deltastate.edu
662-846-4312



Mississippi Delta National Heritage Area Management Plan