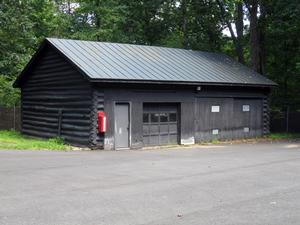 Rehabilitate War Department Log Garage for Curatorial Storage


The 2009 Collection Management Plan for the park identified the need for improved collections storage. The need for bringing all of the storage together under one roof and provide for better climate control and fire suppression was acknowledged.

As recent as 1994, the basement of the Chancellorsville Battlefield Visitor Center experienced major flooding after a severe storm knocked out power for extended period and rendered the sump pump inoperable. The water rose to several inches above the floor and some artifacts were under water. While improvements have been made, the possibility exists that the basement could flood again, thus putting the collection at risk. The need to move the collection to a better storage environment was recognized and suggested in the 2009 Collection Management Plan.

The storage space in the basement of the Chancellorsville Battlefield Visitor Center measures 335 square feet. The collection has outgrown that space and boxes containing artifacts are stacked on the floor for lack of cabinet or shelf space. The collection continues to grow, specifically the archaeological collection, and there is no more space to house additional artifacts. As a result, boxes containing artifacts from the archaeological collection are currently being housed in the closet in the Green Springs National Historic Landmark District, which is located at the Chatham Unit of the park. The closet is not secure for more boxes and this building lacks a fire suppression system.

A new storage location is needed to provide adequate space and to protect the collection with appropriate climate control and fire suppression systems. The park is now proposing to move the collections storage to a new building. This would require the rehabilitation of the War Department Log Building, an existing historic structure on the Fredericksburg Battlefield.


Contact Information
Eric J. Mink
Historian and Cultural Resources Manager

Fredericksburg & Spotsylvania NMP
120 Chatham Lane
Fredericksburg, VA 22405
Eric_Mink@nps.gov



Fredericksburg & Spotsylvania National Military park proposes to rehabilitate the War Department Log Garage on the Fredericksburg Battlefield for curatorial storage.