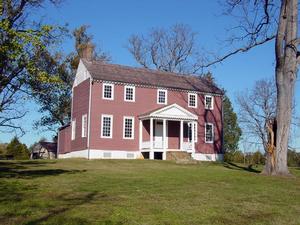 Construction of Ellwood to Wilderness Tavern Pedestrian Trail and Bridge


In the recently completed Cultural Landscape Report for Ellwood (2010), one of the landscape issues raised by the report is the lack of access to the Ellwood landscape from adjoining battlefield sites. "There are no pedestrian or vehicular connections between Ellwood and the site of Wilderness Tavern and Orange Turnpike/Germanna Plank Road intersection to the east…" (p. 156). This lack of connection is seen as a deficiency in interpreting not only the Ellwood landscape, but the overall Wilderness Battlefield. The Ellwood CLR also acknowledges the park's desire to create such connections between the landscapes. The report's recommendations include:

"It is recommended that the park consider rehabilitating the Old Orange Turnpike to return visitor use of the historic entrance to Ellwood, and to link Ellwood and the Wilderness Tavern site. This rehabilitated road would reestablish the abandoned alignment of the turnpike and reconstruct the crossing over the Wilderness Run." (Ellwood CLR, p. 163)

Under Alternative 2 (Park Trail) for this recommendation, the CLR suggests:

"This alternative would restrict use of the rehabilitated Old Orange Turnpike to pedestrians, in part or entirely, as part of a trail linking Ellwood to the Wilderness Tavern site." (Ellwood CLR, p.164)

Currently, the park does not have the funding to rehabilitate the Old Orange Turnpike, but does propose to develop a pedestrian link, between Ellwood and Wilderness Tavern.


Contact Information
Eric J. Mink
Historian and Cultural Resources Manager

Fredericksburg & Spotsylvania NMP
120 Chatham Lane
Fredericksburg, VA 22405
Eric_Mink@nps.gov



Fredericksburg & Spotsylvania NMP proposes to construct a pedestrian trail that will link the Wilderness Tavern site to Ellwood Manor. This trail will also include the construction of a foot bridge over Wilderness Run.