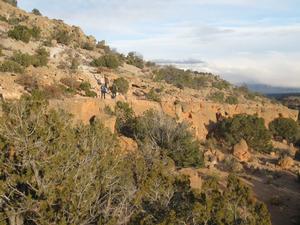 Tsankawi Unit Management Plan


The plan and environmental assessment evaluates a range of alternatives to improve resource protection, address safety concerns, and enhance visitor opportunities. Three alternatives were developed based on the results of internal and public scoping, agency and pueblo consultation, and prior planning studies.

Proposed actions in the plan include changes in the trail system, interpretive program, and parking. Realignment of existing trails would help protect resources from visitor impacts and natural erosion processes. New trails would enhance visitor opportunities to experience the area's rich history of human occupation. New interpretive messaging would inform visitors of the significance and sensitivity of cultural and natural resources. Trailhead parking along the road shoulder of New Mexico State Highway 4 would be relocated onto National Park Service lands to provide safe access to the site for visitors and monument staff.

The document was prepared in accordance with the National Environmental Policy Act of 1969 to provide the decision-making framework that 1) analyzes a reasonable range of alternatives to meet project objectives, 2) evaluates issues and impacts to monument resources and values, and 3) identifies mitigation measures to lessen the degree or extent of these impacts.

Public participation is an essential component of the planning process. The National Park Service encourages your review and input on the plan and environmental assessment. If you would like to share your insights with the planning team, please click on the "Open for Comment" title found under the PROJECT LINKS column on the left side of this page.

The public comment period has been extended through March 16, 2015.





Superintendent Jason Lott of Bandelier National Monument has announced that the public is invited to review and comment on the Tsankawi Unit Management Plan and Environmental Assessment.