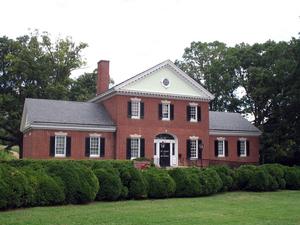 Rehabilitation of Fredericksburg Battlefield Visitor Center


The Fredericksburg Museum and Administration Building was built as a Works Progress Administration project that commenced in 1935. The building was designed to house offices for park staff, including the superintendent. The basement contained offices, restrooms, storage room, boiler room, and an exhibit space. The main floor contained more offices, an exhibit room, and a lecture room. The second floor contained strictly offices. The building was completed in 1936.

From the outset, park staff recoginzed that the building did not function well as a museum. In a lecture to the American Association fo Museums in May 1938, park superintendent Branch Spalding declared that while it was beautiful piece of archicture, the administration building, the "superfluity of windows, misplaced lights, unstudied wall spaces" made clear that the building was "built with museum purposes only secondarily in mind." As a result, the park has attempted to improve, through alteration, upon the design of the interior space.

For the first thirty years of its existence, the building served primarily as administrative offices. The doors were locked during the day and visitors were forced to ring a doorbell, whereupon a staff member would let them in to retrieve information and see the two small exhibit rooms. During the 1960s, the NPS pushed the idea of developing more visitor-friendly spaces, which resulted in visitor centers. The Fredericksburg Museum and Administration Building was altered to adapt its use as a visitor center. Offices in the basement were moved out of the building and that space was opened as an exhibit room. On the entrance floor, two offices were removed: the first near the front door had its walls removed and the space redesigned as an information desk; the second office had walls removed and was opened as additional space. The lecture hall received an electric interpretive map program and was converted into an auditorium where regularly scheduled automated programs could be shown. All of the exhibit spaces also received newly constructed museum displays.

Now, sixty years after the last rehabilitation, the park is proposing to make some additional modifications.


Contact Information
Eric J. Mink
Historian and Cultural Resources Manager

Fredericksburg & Spotsylvania NMP
120 Chatham Lane
Fredericksburg, VA 22405
Eric_Mink@nps.gov



The Fredericksburg & Spotsylvania NMP proposes to renovate and rehabilitate the Fredericksburg Battlefield Visitor Center. This will entail enlarging exhibit areas, moving the auditorium and replacing current exhibits.