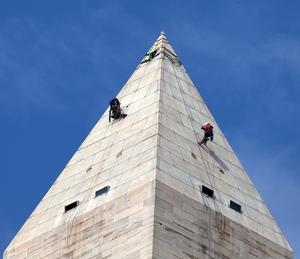 Washington Monument Earthquake Damage Repairs


On the exterior pyramidion and Monument shaft, the proposed project will: remove loose stone fragments; secure loose pieces of stone with small drilled anchors; seal cracked panels via sealant and/or epoxy injection; complete stone patching via Dutchman and/or mortar patches; repoint mortar joints; and remove/reinstall lightning protection system. On the interior, the proposed project will complete: structural repair of cracked stone panels, rib bearing haunches, cracked tie beams, and displaced rib stones; seal cracked panels via sealant and/or epoxy injection and repoint mortar joints.

Repairs may require the removal of the existing granite plaza, some flagpoles and some marble benches surrounding the Washington Monument in order to install exterior scaffolding. Removed features will be labeled, protected during construction, and reinstalled. Construction staging for the project will be located on the south grounds near the Sylvan Theater. A temporary road will be installed to bridge the existing security wall to provide secure construction access to the plaza level of the Monument. East-west pedestrian access across the south Monument grounds will be re-directed to the existing sidewalk along Independence Avenue.

The Washington Monument will remain closed to the public during repairs. The nature of the damage and repairs requires simultaneous interior and exterior work. Repairs on the pyramidion level require complex staging above the 500 ft. level to access locations for masonry repair. The project is expected to last 12- 18 months.

To view further details of the repair plan view Washington Monument Earthquake Repair Project for Public Comment" under "Document List".



A magnitude 5.8 earthquake, with an epicenter near the town of Mineral, Virginia, occurred on August 23, 2011. The earthquake caused significant damage to the interior and exterior masonry of the Washington Monument, the lightning protection system, and the elevator. Following extensive investigation, a repair plan has been developed, and the National Park Service intends to implement this plan in 2012-2013.