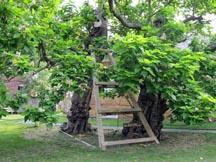 Construct Support Structure for Historic Chatham Catalpa Tree


The two Catalpa trees, located in front of the main house Chatham, are part of the historic landscape and are "witness trees." Both trees were planted prior to 1861 and "witnessed" the historic events that took place at Chatham during the Civil War. Walt Whitman, the famous American poet, served as a nurse at Chatham following the December 1862 Battle of Fredericksburg. In his book _The Wound Dresser_, Whitman referenced these two trees: "One of the first things that met my eyes in camp was a heap of feet, arms, legs, etc., under a tree in front of a hospital, the Lacy house." Both trees are rapidly declining in health, but their public image and the attachment the public has to them encourages the park to do what we can to assist the trees.

Last summer (2010), a park visitor informed us that one of the Catalpas seemed to be leaning at a rather exaggerated angle. The park called in a local botanist who concluded that the root system was dying and failing on one side of the tree, causing it too lack support and lean heavily in that direction. The park staff constructed a temporary wooden support system to keep the tree from leaning anymore. The wood support is bulky and was built as a temporary measure. The park now proposes to install a more permanent support structure for the leaning Catalpa.

The park proposes to remove the temporary wooden structure and replace it with a metal singluar pole system. This metal system is currently used by the University of Mary Washington in supporting an historic tree on its campus. The system consists of a singluar metal pipe with a U-shaped cradle at one end. The trunk of the catalpa will rest in the cradle, while the support pipe will extend, at an angle, to the ground. The bottom of the support pipe will be attached to a 16" x 16" x 1/2" steel plate, which will be driven into the ground at an angle. Two metal legs will extend off the support pipe, providing additional stability.


Contact Information
Eric J. Mink
Historian and Cultural Resources Manager

Fredericksburg and Spotsylvania NMP
120 Chatham Lane
Fredericksburg, VA 22405
Eric_Mink@nps.gov



The Fredericksburg & Spotsylvania NMP proposes to construct a metal support structure for one the two historic Catalpa trees at Chatham Manor.