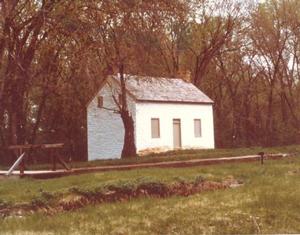 Lock 22 (Pennyfield) Visitor Access Bridge
The National Park Service, Chesapeake and Ohio Canal National Historical Park, will replace a visitor access bridge at Lock 22 (Pennyfield), Mile 19.63 of the park. The access bridge connects the historic towpath with a visitor parking lot. This access point is heavily used by pedestrians, bicyclists, and equestrians.

During the 2010 masonry preservation work at Lock 22, the existing bridge was removed to facilitate the project. A temporary bridge was installed, with the intention to replace the permanent bridge with a new bridge. The removed bridge had exceeded its lifespan and therefore was not returned to service.

The new bridge will be a replacement in kind regarding placement and function. It will allow visitor access between the towpath and the parking area. It will be located at Lock 22. However, it will be constructed to ensure save traverse for horses, which the previous bridge was not constructed to accommodate. This area of the park has a robust equestrian use, with access to the park towpath permitted through the Superintendent's Compendium. This area of the park has many near-by horse riding facilities. The new bridge needs to be capable of handling the equestrian crossings, otherwise, riders may develop unauthorized crossings that can cause damage to park resources.

The new bridge will be 9 feet wide, 24 feet long and will have code appropriate wooden side railings. The support beams will be steel and the bridge deck will be wooden. In order to avoid weight bearing on the lock, concrete footings will be installed to bear the bridge. These footing would be 12' wide x 5' long x 30" deep. The excavations for this work would be monitored for archeological concerns by a qualified cultural resource manager. All excavated earth would remain on site as backfill.

All work will be undertaken by park staff.

The park's Interdisciplinary Team reviewed the project for impacts to natural and cultural resources. The project does not pose any serious or long-term effects to the environmental, historical, cultural, archeological, or visual resources. It meets categorical exclusion #C.8 – Replacement in kind of minor structures and facilities with little or no change in location, capacity, or appearance – for example, comfort stations, pit toilets, fences, kiosks, signs, and campfire circles.

The project also meets the National Historic Preservation Act/Section 106 Programmatic Agreement, Streamlined Review Criteria #2 Rehabilitation and/or Minor Relocation of Existing Trails, Walks, Paths, and Sidewalks



Contact Information
For further information about this project, please contact Chief of Maintenance, at 1850 Dual Highway, Suite 100, Hagerstown, MD 21740.