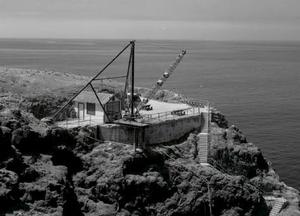 Replace Anacapa Derrick Crane


The proposed action consists of removing the existing, historic, stiff leg derrick crane and its concrete foundation and replacing it with a two-crane system and new foundation. One crane would be located within the existing historic footprint adjacent to the historic derrick building on the upper landing, and a second smaller crane would be located on the lower landing of the existing boat landing. This two crane system is designed to improve the safety of loading operations. Materials for the replacement crane would be delivered to the island by either helicopter or boat, outside of bird nesting season. After the new crane is installed, the old crane and concrete foundation rubble removed from the island. Installation of the cranes may require temporary closure of the island to the public. Construction is expected to begin in late summer 2018 and could last several months.

The NPS is soliciting public comment on the project and its effects as part of scoping for the National Historic Preservation Act (NHPA) and the National Environmental Protection Act (NEPA). A newsletter provides an overview of the planning and compliance process, explains the proposed action, and provides information on how to submit public comment. A draft Memorandum of Agreement proposes mitigation to address the adverse effects to the Anacapa Light Station Historic District. Please click on 'Open for Public Comment' on the left to read the documents and submit comments.

The public comment period will be open between January 26 and February 24, 2017.





Contact Information
Laura Kirn, Chief of Cultural Resources, Channel Islands National Park, (805) 658-5752

Sterling Holdorf, Acting Chief of Facilities, Channel Islands National Park, (805)658-5755.



The National Park Service (NPS) is seeking your input on a project to replace the existing, and currently out-of-service stiff leg derrick crane on Anacapa Island in Channel Islands National Park.